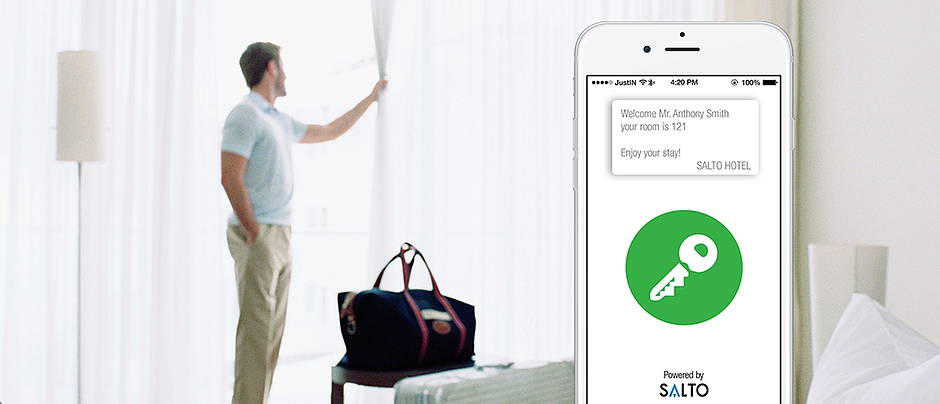 Much more than a guestroom lock.

For the Hospitality market, SALTO has developed specific management software, which allow hotel clients to easily control all their access and guest management needs with one easy-to-use system. It suits hotels of all types and sizes, to provide an optimal guest experience and best utilization of a hotel's rooms, suites and meeting space infrastructure.

SALTO's broad product range covers every corner of the access control spectrum, from back of house organisation to guest room management. An access control system for the hospitality sector with unprecedented flexibility.

Smart, secure and easy to install, the SALTO's premium hotel electronic locks need no hard-wiring and provide a wire-free networked locking solution with a modern range of features, without sacrificing security or design.

With a single click of the mouse, the network can be configured and changes made in real-time.

- Instant change of access rights

- Temporary access to particular locks

- Access event- Key cancellation.

- Door monitoring.- Battery status.

- Remote emergency opening.

Ensuring peace of mind for everyone who legitimately accesses a property, SALTO not only controls and secures guest rooms; it can also be used to manage all back-of-house doors used by staff, visitors and suppliers. SALTO provides full control of who can access what, when and where within the entire property, and can integrate this with CCTV, alarm, time and attendance or other systems, if required.
The rise of lodging rental marketplaces such as Airbnb has generated a need for smarter, more manageable locking solutions for serviced apartments. SALTO's easy to install retrofit solutions redesign access control and make management easier with the help of modern technology.