There's a smarter way to control your property access.
With proven reliability and recognised stability we bring you wireless access control, providing vastly better functionality and performance than is possible in a traditional mechanical solution with a flexible management system that requires no software installation nor the cost of a fully-wired electronic product - all you need is an online device with an Internet connection.
Oversee across multiple locations from one app.
Not just for businesses, our access control solution is perfect for homes, rentals and retail spaces where you need to give access to staff, guests, friends or family without the need for cutting keys or getting fobs programmed. Whether it be one time only access or access for a limited period, you can fully customise who gets to go where, for how long, and when right from your mobile.

Doors access points are equipped with a wireless lock, which takes commands from the IQ inside the property. Use any combination of locks to manage access throughout a whole property or even across different properties in different locations.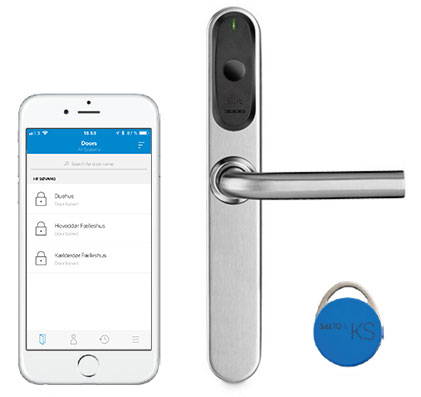 Say goodbye to copying keys.
Tags replace that ring of keys, and grants designated access to visitors, employees, or even delivery services whenever it's appropriate for them to enter. Simply assign a tag, and define when and where that tag can go.Lost tags are inevitable; simply block and assign a new one. Even receive a notification if someone tries to enter with a blocked tag.
Access your account anywhere.
With cloud based technology you can give access anytime, anywhere. You can receive entry activity insights and send open door commands in real-time. With bank level security, nothing has ever been more simpler or safer for your property.